Are you battling with any kind of sickness? These Bible verses about healing sickness is for you.
God wants to heal you and no matter what you are going through, fill your mind and heart with these Bible verses.
Meditate on it, till you experience complete healing.
DO NOT FEAR
"O do not fear, for I am with you; do not be dismayed, for I am your God. I will strengthen you and help you; I will uphold you with my righteous right hand." Isaiah 41:10 (NIV)
GOD CAN DO ALL THINGS
'See now that I, even I, am he, and there is no god beside me; I kill and I make alive; I wound and I heal, and there is none that can deliver out of my hand. Deuteronomy 32:39 (ESV)
GOD WILL RESTORE HEALTH
"But I will heal this city and restore it to health. I will heal its people, and I will give them peace and security. Jeremiah 33:6 (GOD'S WORD)
A DIVINE TOUCH IS ALL YOU NEED
11 he saw a seriously handicapped woman who had been bent double for eighteen years and was unable to straighten herself.
12 Calling her over to him Jesus said, "Woman, you are healed of your sickness!" 13 He touched her, and instantly she could stand straight. How she praised and thanked God!  Luke 13:11-13 (TLB)
CALL FOR HELP FROM GOD'S SERVANT
Is anyone sick? He should call for the elders of the church and they should pray over him and pour a little oil upon him, calling on the Lord to heal him.
15 And their prayer, if offered in faith, will heal him, for the Lord will make him well; and if his sickness was caused by some sin, the Lord will forgive him. James 5:14-15 (TLB)
GOD WILL SEE YOU THROUGH
My flesh and my heart faileth: God is the rock of my heart and my portion forever. Psalms 73:26 (Darby)
Also Related: Top 15 Powerful  Prayer Quotes for Healing.
KEEP YOUR FAITH ALIVE
And he said to her, Daughter, your faith has made you well; go in peace, and be free from your disease. Mark 5:34 (BBE)
NEVER DEPART FROM THE LORD OF GOD
8 Behind the doors also and the posts hast thou set up thy remembrance: for thou hast discovered thyself to another than me, and art gone up; thou hast enlarged thy bed, and made thee a covenant with them; thou lovedst their bed where thou sawest it.
9 And thou wentest to the king with ointment, and didst increase thy perfumes, and didst send thy messengers far off, and didst debase thyself even unto hell. Isaiah 57:18-19 (KJV)
PRAY FOR HEALING
Lord my God, I prayed to you, and you healed me.  Psalms 30:2 (Easy-to-Read Version)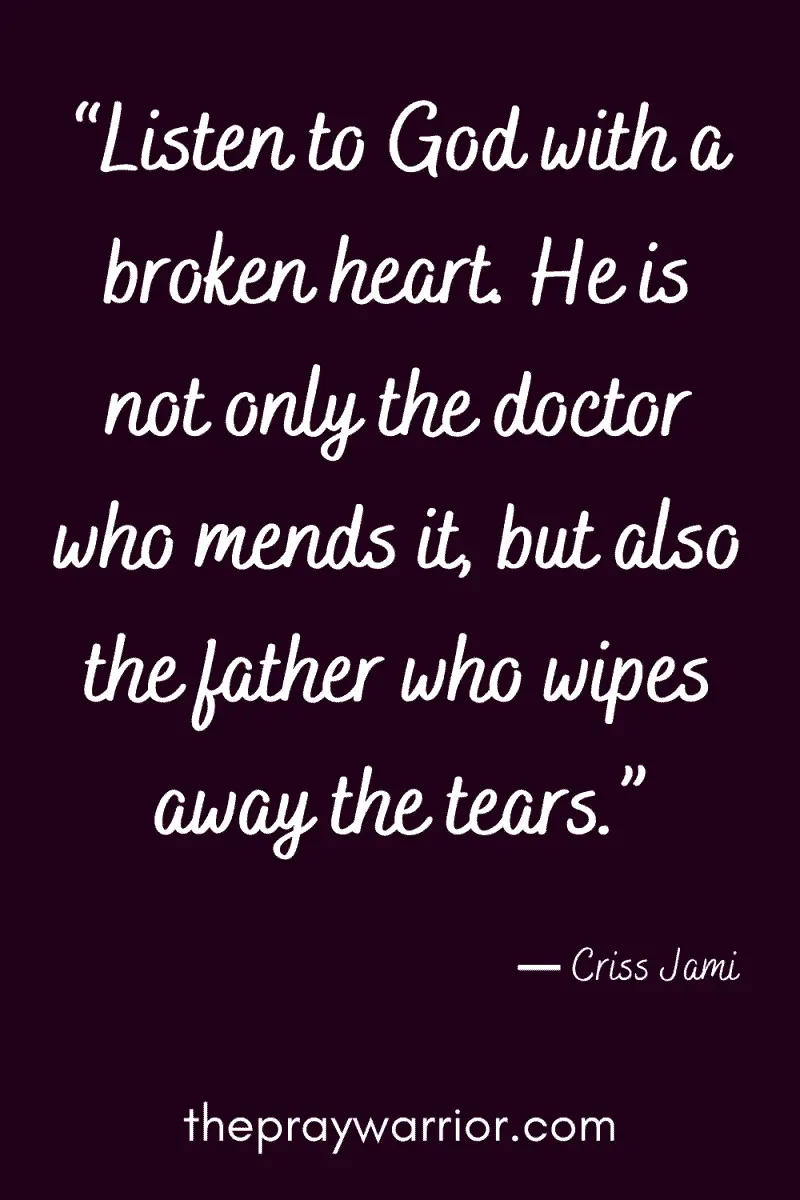 GOD'S WORD CAN HEAL YOU
20 My child, pay attention to what I say. Listen to my words. 21 Never let them get away from you. Remember them and keep them in your heart. 22 They will give life and health to anyone who understands them.  Proverbs 4:20-22 (GNT)
HE IS ABLE TO HEAL YOUR HEART
He healeth the broken in heart, and bindeth up their wounds. Psalms 147:3 (Darby)
CHRIST IS ABLE TO MAKE YOU WHOLE AGAIN
And there he found a certain man named Aeneas, which had kept his bed eight years, and was sick of the palsy. Peter said unto him, Aeneas, Jesus Christ maketh thee whole: arise and make thy bed. And he arose immediately. Acts 9:33-34 (KJV)
GOD IS GRACIOUS AND HE WILL HEAL YOU
O Lord, be gracious to us; we long for you. Be our strength every morning, our salvation in time of distress.  Isaiah 33:2 (NIV)
GOD WILL BRING YOU OUT FROM THE PIT OF SICKNESS
He brought me up also out of a horrible pit, out of the miry clay, and set my feet upon a rock, and established my goings. Isaiah 40:29 (KJV)
GOD IS READY TO SAVE
Then they send up their cry to the Lord in their sorrow, and he gives them salvation out of all their troubles.
He sent his word and made them well, and kept them safe from the underworld Let men give praise to the Lord for his mercy, and for the wonders which he does for the children of men! Psalms 107:19-21(BBE)
JESUS! THE HEALER
Jesus went about all the cities and the villages, teaching in their synagogues, and preaching the Good News of the Kingdom, and healing every disease and every sickness among the people. Matthew 9:35 (WEB)
YOU SHALL BE SAVED
Heal me, O Yahweh, and I shall be healed; save me, and I shall be saved: for you are my praise. Jeremiah 17:14 (WEB)
GOD WILL DELIVER YOUR LIFE FROM THE PIT
3 He is the one who forgives all your sins, who heals all your diseases,   4 who delivers your life from the Pit,  who crowns you with his loyal love and compassion,  Psalms 103:2-4 (The NET Bible)
BY HIS WOUNDS, YOU ARE HEALED
He himself bore our sins in his body on the tree, that we might die to sin and live to righteousness. By his wounds, you have been healed 1 Peter 2:24 (RSV)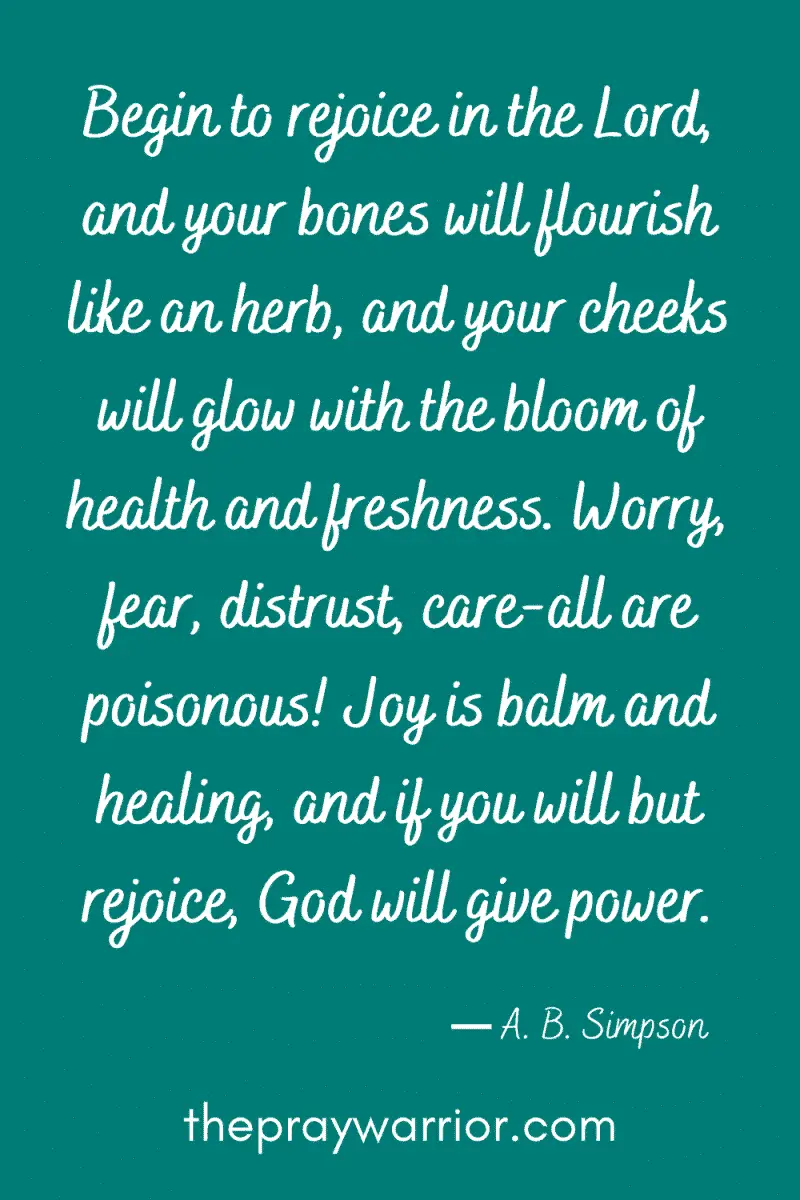 GOD'S WILL IS FOR YOU TO PROSPER AND BE IN HEALTH
Beloved, I wish above all things that thou mayest prosper and be in health, even as thy soul prospereth. 3 John 1:2 (KJV)
GOD IS STILL FAITHFUL
The righteous cry and the LORD heareth, and delivereth them out of all their troubles. The LORD is nigh unto them that are of a broken heart; and saveth such as be of a contrite spirit.
Many are the afflictions of the righteous: but the LORD delivereth him out of them all. He keepeth all his bones: not one of them is broken.
Evil shall slay the wicked: and they that hate the righteous shall be desolate.  The LORD redeemeth the soul of his servants: and none of them that trust in him shall be desolate. Psalms 34:17-22 (KJV)
THE LORD OUR HEALER
He said, "If you listen carefully to the LORD your God and do what is right in his eyes, if you pay attention to his commands and keep all his decrees, I will not bring on you any of the diseases I brought on the Egyptians, for I am the LORD, who heals you." ~ Exodus 15:26
BY HIS STRIPES YOU ARE HEALED
But he was wounded for our transgressions, he was bruised for our iniquities: the chastisement of our peace was upon him, and with his stripes, we are healed. All we like sheep have gone astray; we have turned every one to his own way, and the Lord hath laid on him the iniquity of us all.  Isaiah 53:4-5 (KJV)
GOD IS MERCIFUL
Have mercy upon me, O Lord; for I am weak: O Lord, heal me; for my bones are vexed. Psalms 6:2 (KJV)
GOD WILL RESTORE HEALTH UNTO YOU
For I will restore health unto thee, and I will heal thee of thy wounds, saith the Lord; because they called thee an Outcast, saying, This is Zion, whom no man seeketh after. Jeremiah 30:17 (KJV)
YOUR SINS ARE FORGIVEN
I said, Lord, be merciful unto me: heal my soul; for I have sinned against thee. Psalms 41:4 (KJV)
HOLD ON TO HIS WORDS
O Lord, by these things men live, and in all these things is the life of my spirit: so wilt thou recover me, and make me to live. Isaiah 38:16-17 (KJV)
GOD WILL STRENGTHEN YOU AGAIN
The Lord will preserve him, and keep him alive, and he shall be blessed upon the earth: and thou wilt not deliver him unto the will of his enemies. The Lord will strengthen him upon the bed of languishing: thou wilt makes all his bed in his sickness. Psalms 41:2-3 (KJV)
FEAR NOT
But when Jesus heard it, he answered him, saying, Fear not: believe only, and she shall be made whole.
Luke 8:50 (KJV)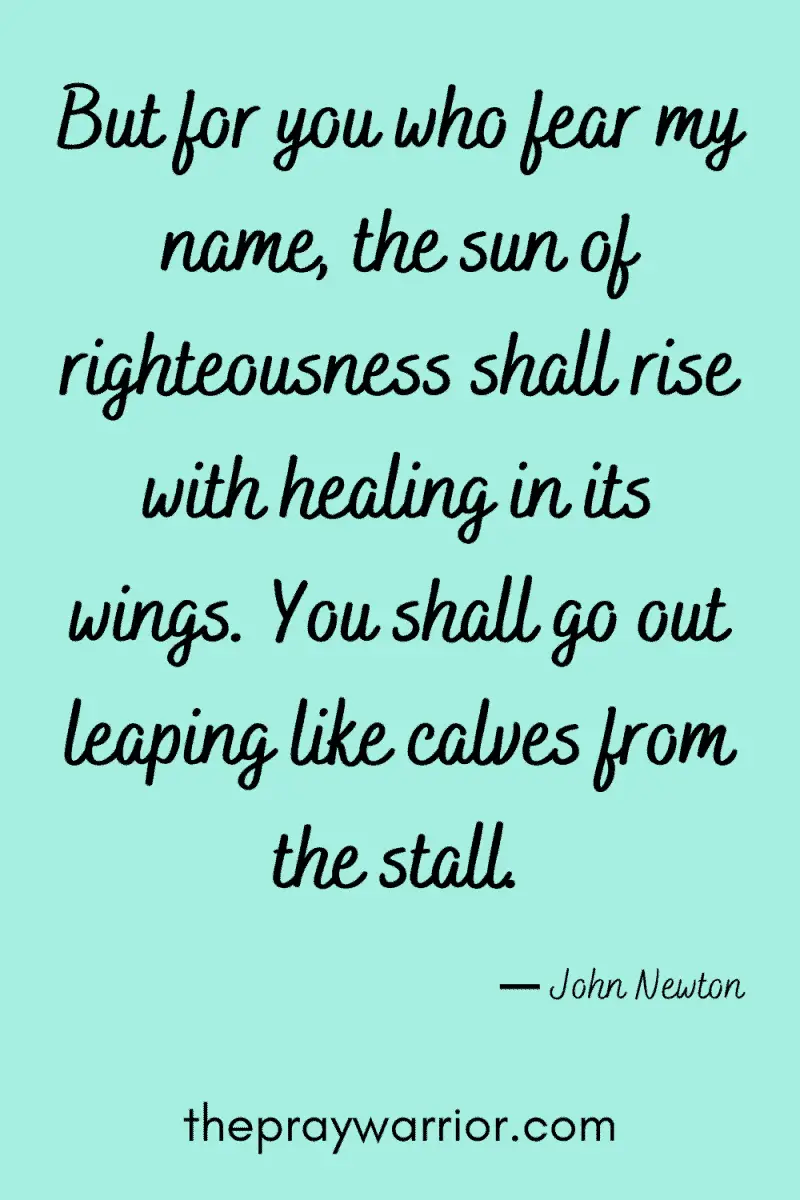 NOTHING IS TOO HARD FOR GOD TO DO.
He healeth the broken in heart, and bindeth up their wounds. Psalm 147:3 (KJV)
KEEP YOUR FAITH ALIVE
And Jesus said to him, "Go, for your faith has healed you." Instantly the man could see, and he followed Jesus down the road. Mark 10:52 (New Living Translation)
SICKNESS IS NOT PERMITTED IN OUR BODY
Heal the sick, raise the dead, cure those with leprosy, and cast out demons. Give as freely as you have received! Matthew 10:8 (New Living Translation)
HUMBLE YOURSELF AND RETURN TO HIM
and my people, my God-defined people, respond by humbling themselves, praying, seeking my presence, and turning their backs on their wicked lives, I'll be there ready for you: I'll listen from heaven, forgive their sins, and restore their land to health. 2 Chronicles 7:14 (THE MESSAGE)
CONFESSION OF SINS CAN CAUSE SPEEDY RECOVERY
The troubles of my heart are enlarged: O bring thou me out of my distresses. Look upon mine affliction and my pain, and forgive all my sins. Psalm 25:17-18 (KJV)
THERE'S HEALING IN THE NAME OF JESUS
But unto you, that fear my name shall the Sun of righteousness arise with healing in his wings, and ye shall go forth, and grow up as calves of the stall. Malachi 4:2 (KJV)
Also Related: Top 55 Inspirational Bible Verses About Love.
GOD HAS HEARD YOUR PRAYERS! BE OF GOOD COURAGE
"Go back to Hezekiah, the leader of my people, and tell him that the Lord God of his ancestor David has heard his prayer and seen his tears. I will heal him, and three days from now he will be out of bed and at the Temple! 2 Kings 20:5 (TLB)
YOU HAVE AUTHORITY OVER SICKNESS
And I have given you authority over all the power of the Enemy, and to walk among serpents and scorpions and to crush them. Nothing shall injure you!  Luke 10:9 (TLB)
HE WILL SUPPLY YOU WITH THE STRENGTH THAT YOU NEED
He is my strength, my shield from every danger. I trusted in him, and he helped me. Joy rises in my heart until I burst out in songs of praise to him Psalm 28:7 (TLB)
HE WILL FIGHT FOR YOU
And the Lord will take away all your sickness and will not let you suffer any of the diseases of Egypt you remember so well; he will give them all to your enemies!  Deuteronomy 7:15 (TLB)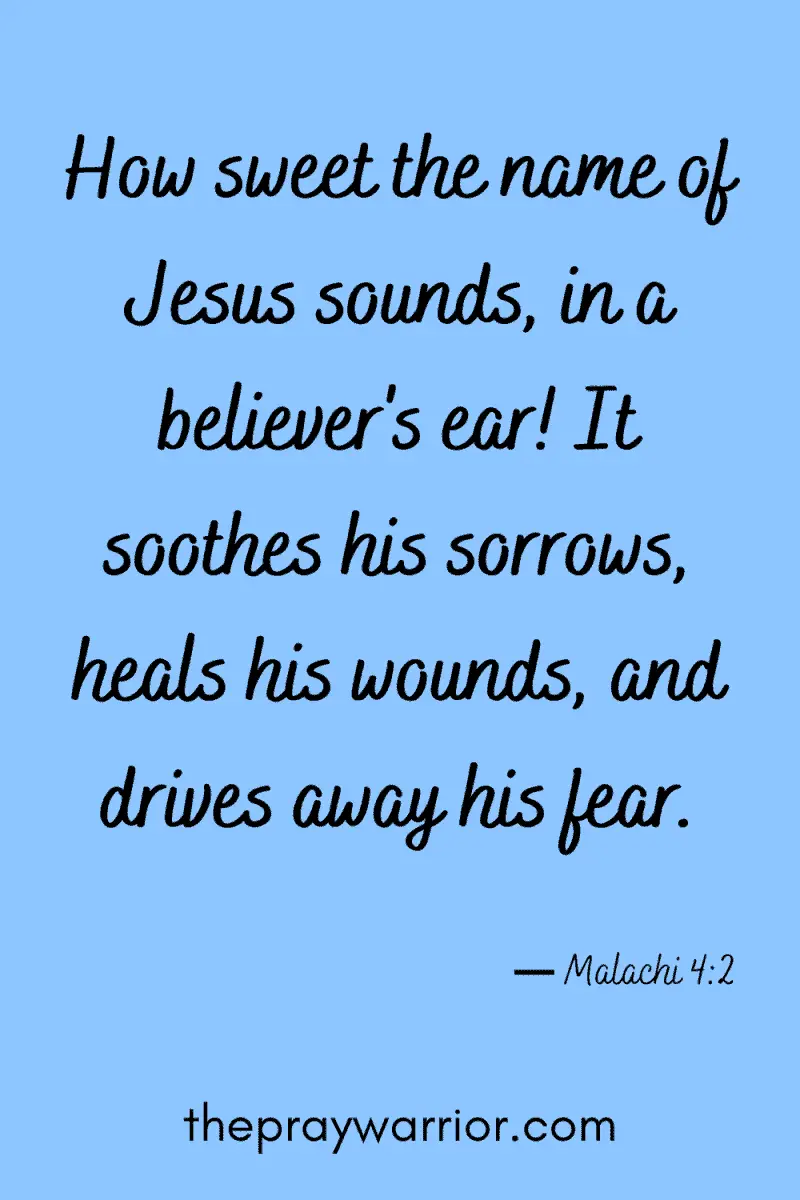 YOU SHALL ARISE AGAIN FROM THE BED OF SICKNESS
Pity me, O Lord, for I am weak. Heal me, for my body, is sick, psalm 6:2 (TLB)
GOD WILL SAVE YOU FROM TROUBLE
For there are no pains in their death, and their body is fat. They are not in trouble as other men; Nor are they plagued like mankind.  Psalm 73:4-5 (NASB)
RETURN UNTO THE LORD
Come, let us return to the Lord. For He has torn us, but He will heal us; He has wounded us, but He will bandage us. Hosea 6:1 (NASB)
GOD'S LOVE IS BOUNDLESS
The Lord says, "Then I will heal you of your faithlessness; my love will know no bounds, for my anger will be gone forever. Hosea 14:4 (New Living Translation)
GOD WILL DELIVER YOU FROM THE POWER OF THE GRAVE
O Lord my God, I cried unto thee, and thou hast healed me. O Lord, thou hast brought up my soul from the grave: thou hast kept me alive, that I should not go down to the pit. Psalm 30:2-3 (KJV)
YOUR HEALING WILL BE FAST
Then your light will break forth like the dawn, and your healing will quickly appear; then your righteousness will go before you, and the glory of the Lord will be your rear guard.  Isaiah 58:8 (NIV)
GOD WILL SUSTAIN YOU
The Lord will sustain him on his sickbed and restore him from his bed of illness. Psalm 41:3 (NIV)
SURROUND YOURSELF WITH POSITIVE-MINDED PEOPLE
Pleasant words are a honeycomb, sweet to the soul and healing to the bones. Proverbs 16:24 (NIV)
JESUS IS WILLING TO HEAL YOU
Jesus said to him, "I will go and heal him."  Matthew 8:7 (NIV)
RUN AWAY FROM EVIL
Do not be wise in your own eyes; fear the Lord and shun evil.  This will bring health to your body and nourishment to your bones.  Proverbs 3:7-8 (NIV)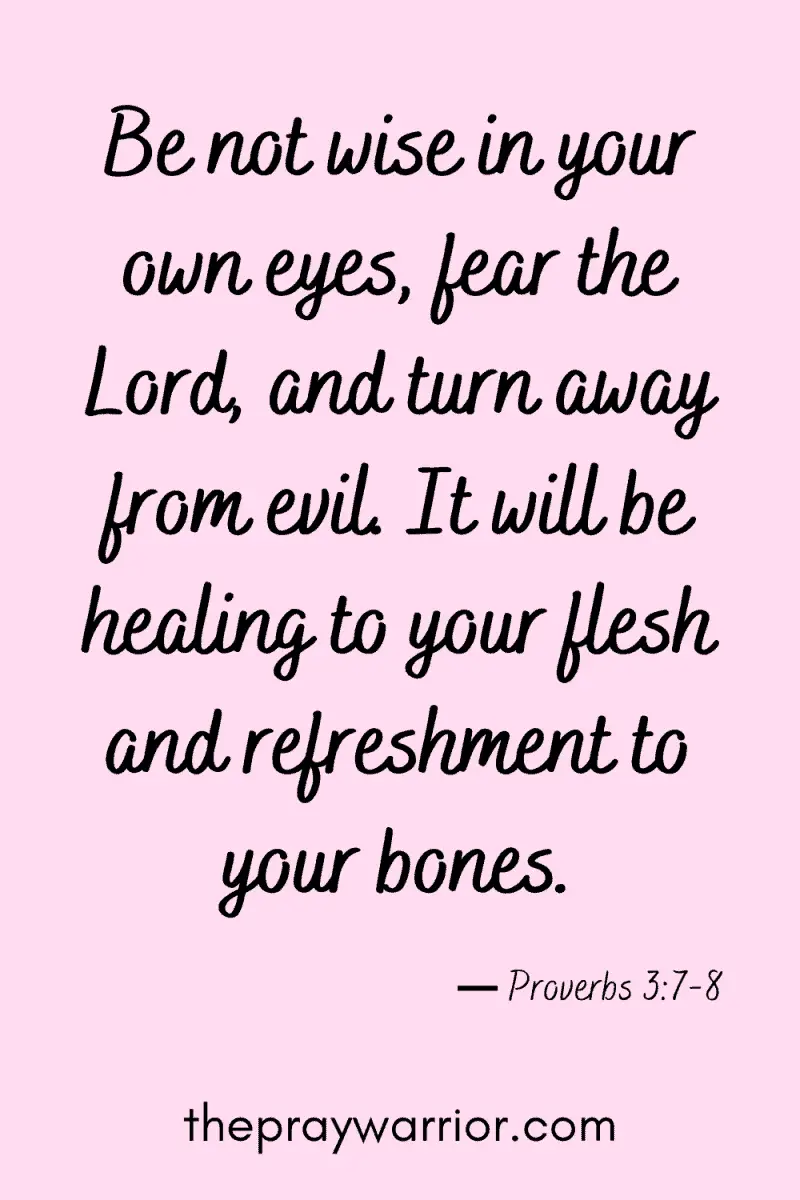 STRENGTH COMES FROM TRUSTING IN THE LORD
Wait on the Lord: be of good courage, and he shall strengthen thine heart: wait, I say, on the Lord. Psalm 27:14 (KJV)
HEALING VIRTUES FLOW THROUGH YOUR FAITH
For she said within herself, If I may but touch his garment, I shall be whole.
But Jesus turned him about, and when he saw her, he said, Daughter, be of good comfort; thy faith hath made thee whole. And the woman was made whole from that hour. Matthew 9:21-22 (KJV)
ENCOURAGE YOURSELF IN THE LORD
Why art thou cast down, O my soul? and why art thou disquieted within me? hope thou in God: for I shall yet praise him, who is the health of my countenance, and my God. Psalm 42:11 (KJV)
PAY ATTENTION TO GOD'S INSTRUCTIONS
3 Behold, thou hast instructed many, and thou hast strengthened the weak hands.
4 Thy words have upholden him that was falling, and thou hast strengthened the feeble knees. Job 4:3-4 (KJV)
GOD WILL SATISFY YOU WITH LONG LIFE.
He shall call upon me, and I will answer him: I will be with him in trouble; I will deliver him, and honour him. With long life will I satisfy him, and shew him my salvation. Psalm 91:15-16 (KJV)
God will Take Sickness Away from You.
You must serve only the Lord your God. If you do, I will bless you with food and water, and I will protect you from illness. Exodus 23:25 (New Living Translation)
God is faithful and His words are true. Meditate on these 55 bible verses about healing sickness and confess it daily. There is no sickness too hard for God to heal.
David Small
Is an Ordained Minister and Life Coach. He is an ordained minister since 1988. Shortly after receiving Jesus as his personal savior, he answered the call to ministry.